Welcome to Arbroath & District Pool League
This year's Arbroath and District Pool League AGM will be held on Thursday 27th July in the Royal British Legion clubrooms, starting at 7.30pm. The new office bearers and committee members for the new season will be voted in on the night.

Any player(s) who wish to make a proposal for the forthcoming season must submit it in writing to the Match Secretary a minimum of SEVEN DAYS in advance of the meeting. For clarity, the deadline for proposals is Thursday 20th July at 7.30pm. Please note any proposals received after the deadline will not be accepted. Proposals will be posted online prior to the meeting.

Players are reminded this is their opportunity where they can have their say on matters in the ADPL. All players are encouraged to attend.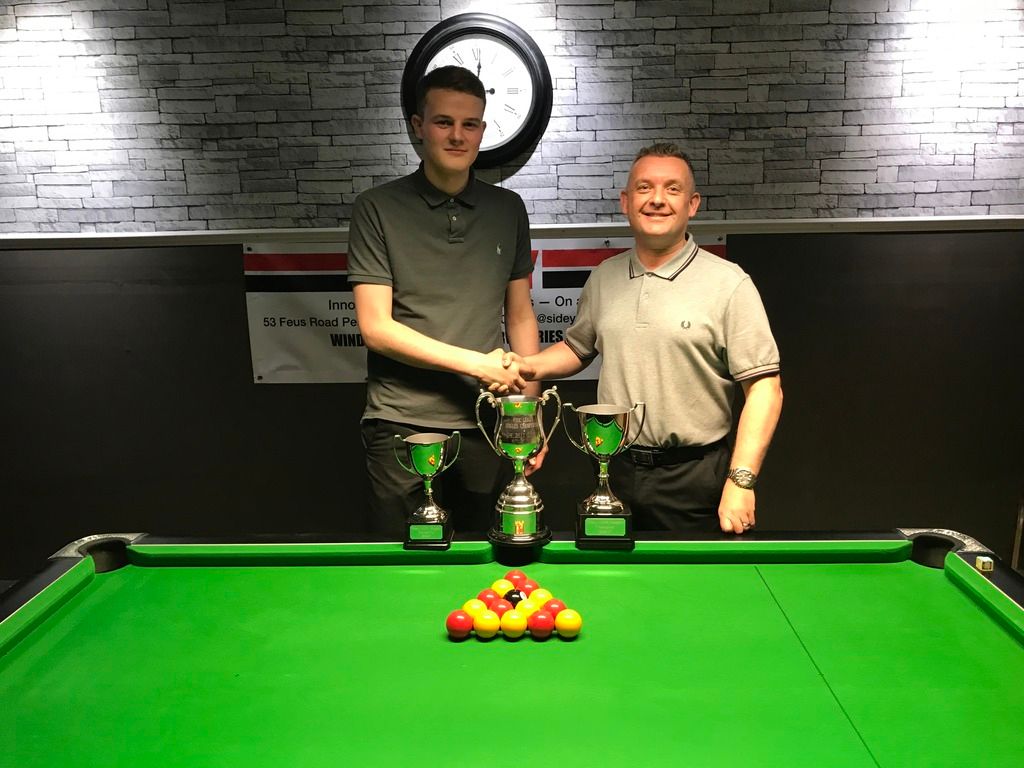 2017 Singles Finalists (left to right) Michael Watt (Runner-Up)
and Greg Alexander (Winner)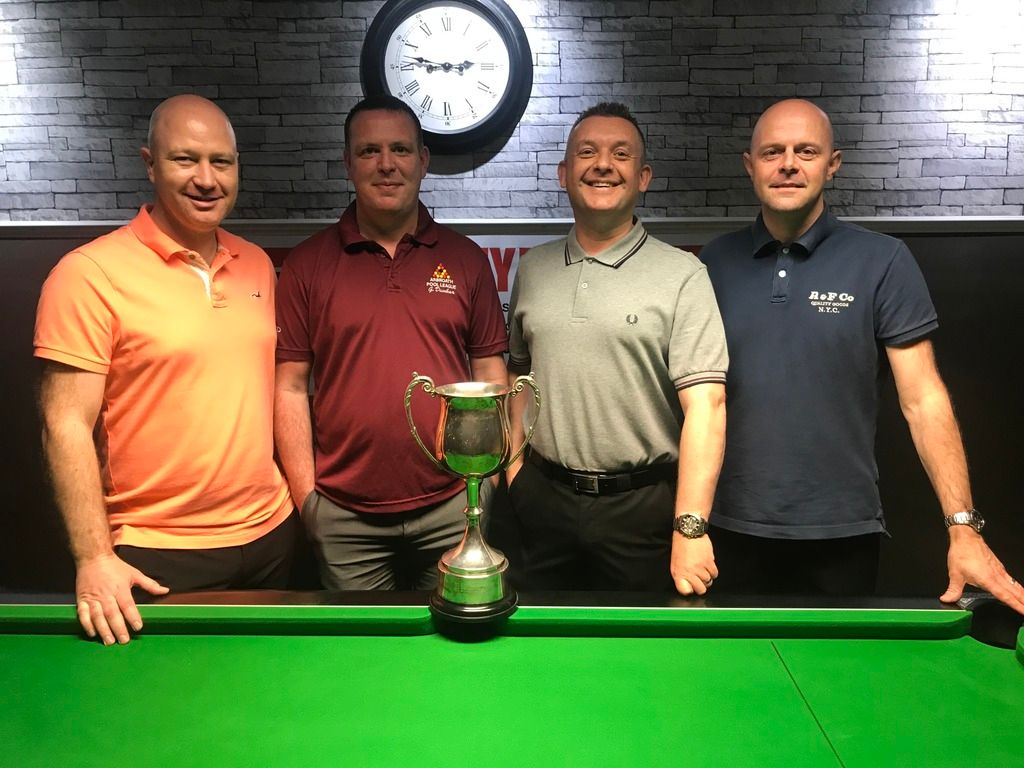 2017 Doubles Finalists (left to right)
Paddy Nicoll, Graham Dunbar (Runners Up) and
Greg Alexander and David Jack (Winners)
Pictured: (left to right) Paddy Nicoll (Runner-Up),
Sandy Beedie (Sponsor) and Jimmy Pollock (Winner)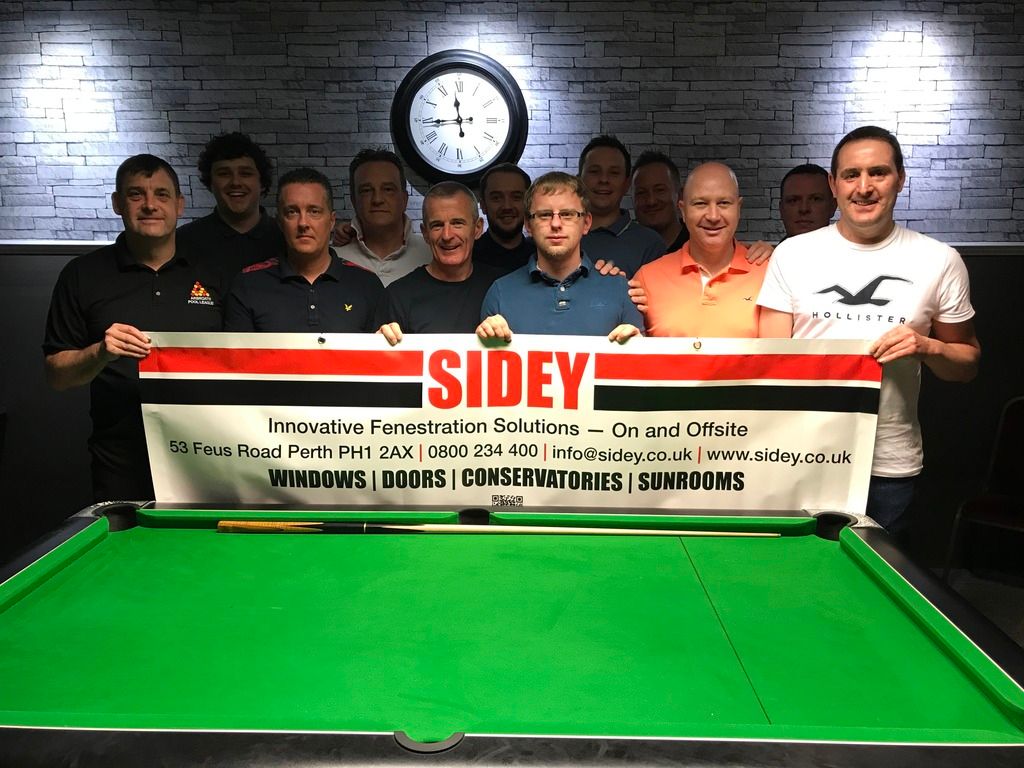 2017 SIDEY League Division 1 and Knockout Cup Champions, Portcullis 1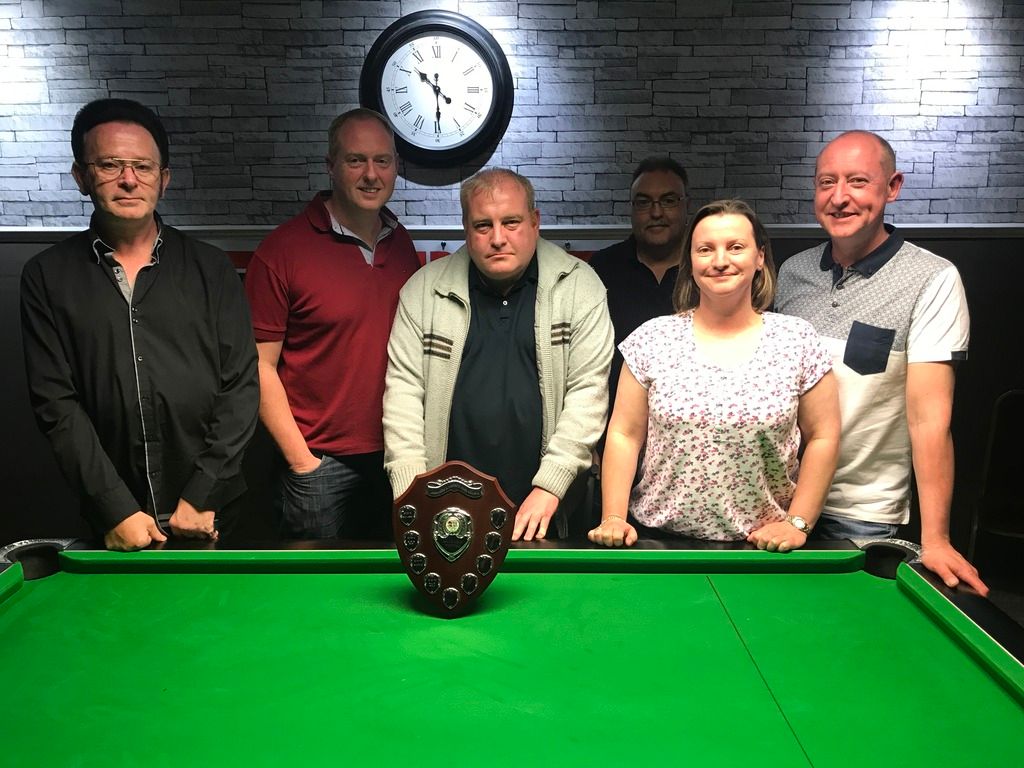 ADPL Sidey Division 2 Champions, Ram's Heid 1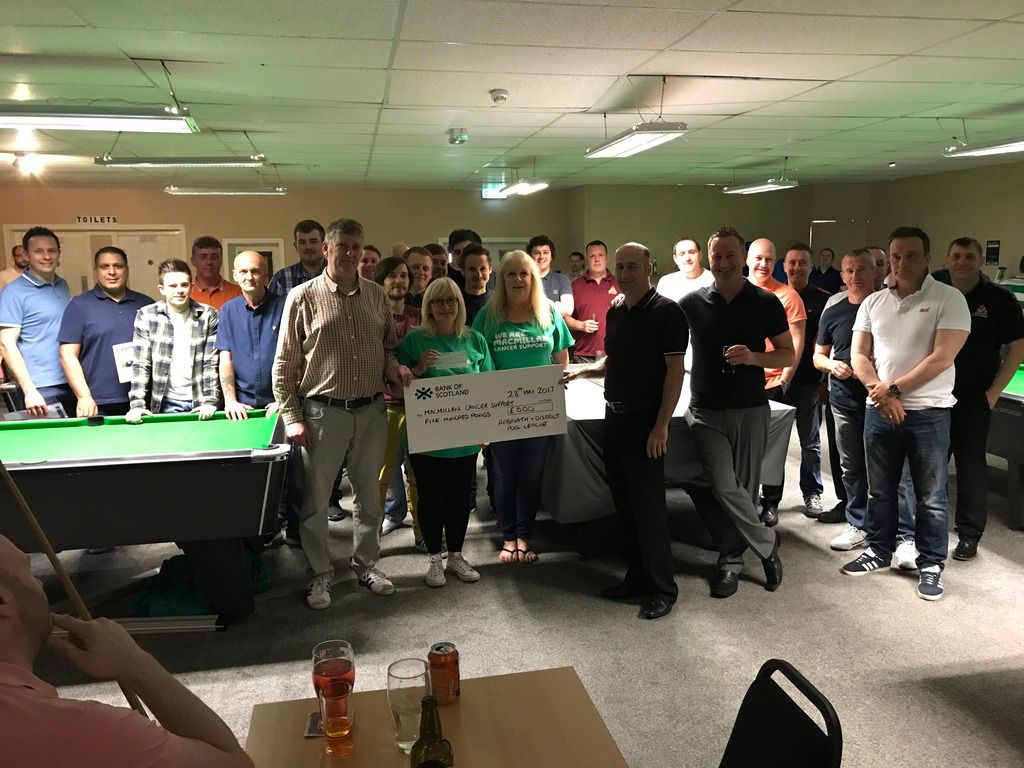 This year the ADPL presented a cheque for £500 to Macmillan Cancer Support at Finals Day. The cheque was handed over to local representatives Kerry Sidgewick and Gillian Muir, who were in attendance on behalf of the Arbroath Macmillan Cancer Support Committee. Presenting the cheque are President Gordon Smith and Treasurer Roy Middleton, with some of the pool players watching on.
Congratulations to Shotz 1B who are this year's 4-Man Team Champions. The team led by captain Keir Hamilton also included Nick Denson, John Fotheringham, Roy Middleton and Steve Hamilton, who defeated Shotz 3A in the final by a convincing 5-0 scoreline. Shotz 3A were led by Michael Emslie, with James Curran, Peem Twaddle and Craig Sandford in the team.
Thank you to all of the players who attended tonight and it is hoped everyone enjoyed the event. Thanks are also extended to everyone at Shotz for hosting and sponsoring.
The 2017 Cliffburn Singles attracted a field of 60 entries. The day went well and the final produced a magnificent standard of pool from both players, Ryan Fleming and Iain Soutar. Unfortunately one of these players had to be defeated and commiserations go to Iain, who was edged out 5-3. Congratulations to this year's winner Ryan Fleming who adds this to his recent Portcullis Singles win.
Thanks are extended to all of the players who attended and also to our sponsor Bobby Din, along with his staff.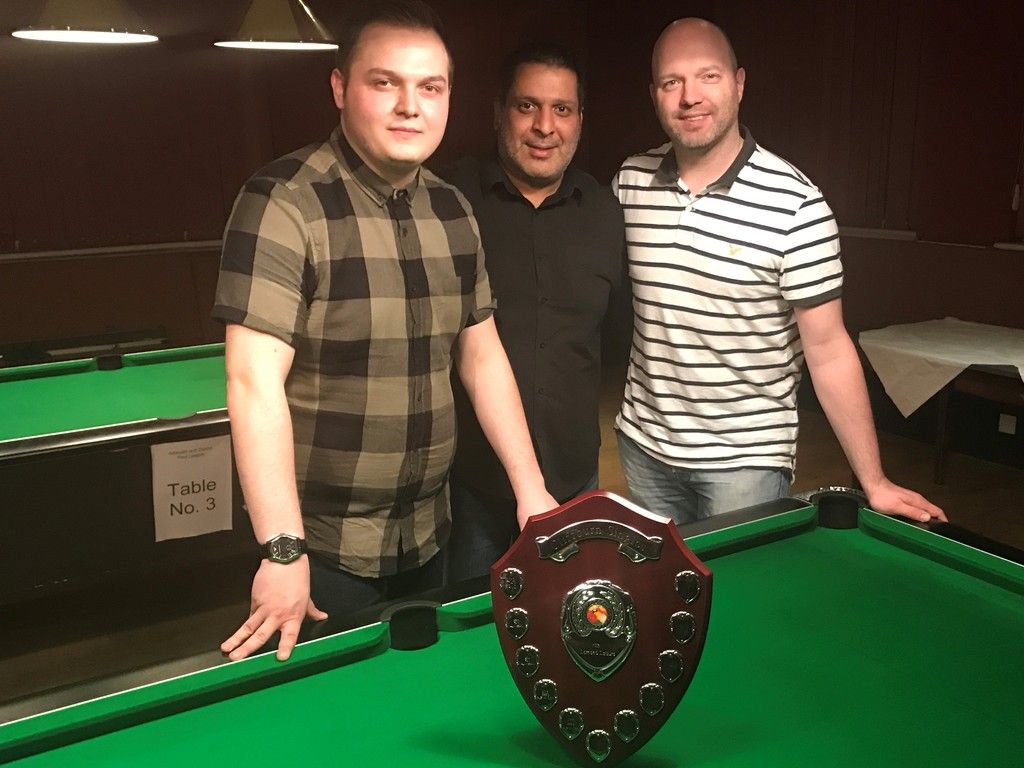 Pictured (l to r) Ryan Fleming, Bobby Din and Iain Soutar.
St Tams are the 2016-17 Division 2 Cup Champions after a 7-3 win against Cliffburn (2) tonight. Cliffburn set the pace taking a 3-1 lead and looked to be out of sight but they were pegged back and St Tams pushed on to secure the win with the first double.
Congratulations to Mark Edgar and his team. Unlucky to Josh Longmuir and his team.
Thanks are extended to Steven and Leanne Scott at the Stag for hosting this years final.
Pictured: Division 2 Cup Champions, St Tams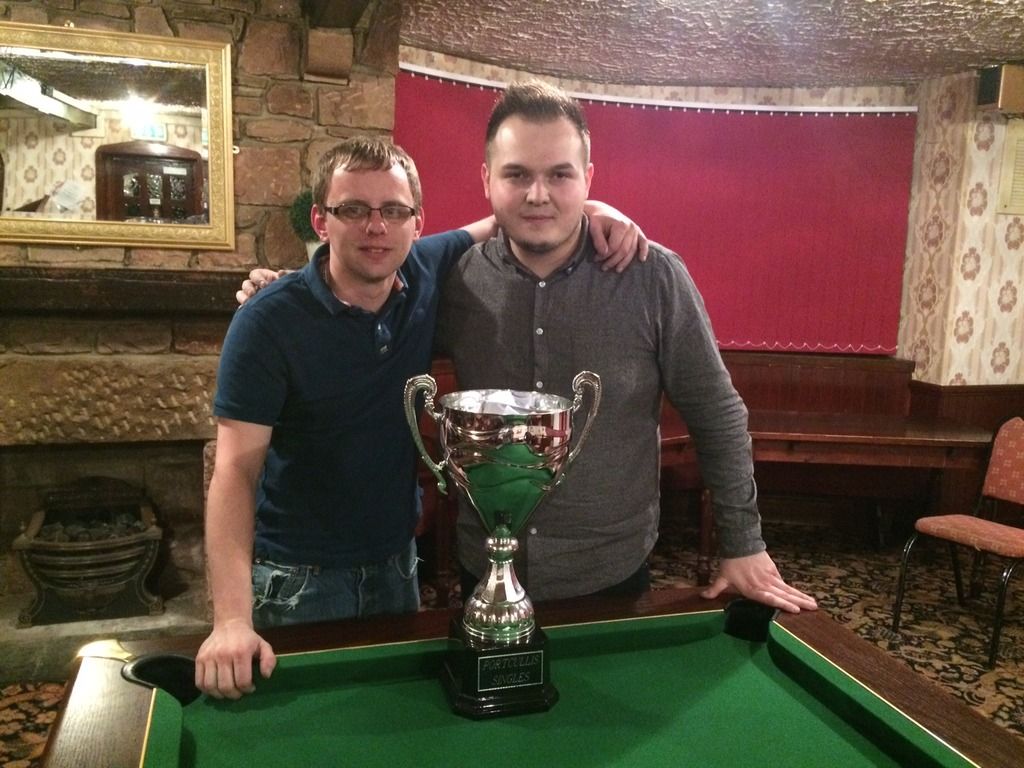 Last Saturday saw the eighth annual playing of the Portcullis Pool Singles Competition. The event was won by Ryan Fleming who defeated Scott MacEwan 5-3 in the final in a comeback win after being behind 3-1. Commiserations to Scott who had a good run on the day. Beaten semi-finalists were Darrin Warren and John Fotheringham. Thanks go to the new proprietors of the Portcullis, Chris and Jakki Henderson for sponsoring the event and to all the bar staff for looking after the players. Final thanks to all the players without whom these events would not be possible.